What Kind Of Training Do Family Mediators Receive?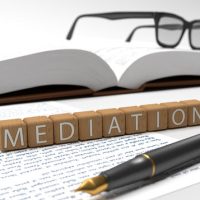 You might have heard that family mediators can help you handle your divorce in a civilized, stress-free, and affordable manner. But what exactly are mediators? How are they trained? What do they bring to the table? These are important questions, especially if you're approaching divorce for the first time and have no idea what to expect. There might be a lot on the line – including child custody, marital property, alimony, and much more. So how do you know you can trust mediators to act in a professional, efficient manner?
Are Mediators the Same as Divorce Lawyers? 
First of all, it's important to note that some mediators are also lawyers. These multifaceted professionals have a solid legal background, and they have also been trained in the art of mediation. This makes them especially well-rounded individuals that can handle pretty much any issue they encounter during divorces. Drawing upon their legal knowledge, they can offer sound advice to both spouses in an efficient manner. That being said, not all mediators are lawyers. Some mediators simply receive training in mediation without ever working in the legal profession
Mediator Requirements in Georgia 
The field of mediation in this state is regulated by the Georgia Office of Dispute Resolution, sometimes abbreviated as simply "GODR." In order to register as mediators in the State of Georgia, applicants must:
Complete an approved 28-hour course and observe 5 actual cases
Or: 
Complete a 12-hour observation course
Applicants must then satisfy the classroom requirements, which are slightly different. These requirements are slightly different depending on the specific field of mediation that the applicant is targeting. Most mediators get a four-year degree at an accredited post-secondary institution.
What Skills Must Mediators Bring to the Table? 
Training is only one part of the equation. Mediators must also bring specific skills to the table when helping spouses resolve their their divorce. Here are a few examples:
Communication: All mediators must have excellent communication skills. These professionals must not only communicate well themselves, but also encourage positive communication between spouses.
Listening: Mediators must also be strong listeners. If mediators cannot listen to the concerns of the spouses, they cannot hope to solve their problems with any measure of efficacy.
Creativity: Mediators often bring excellent creativity to the table. It often helps if they can "think outside the box" in order to come up with new solutions that no one has previously considered.
Impartiality: Above all else, mediators must be impartial. They cannot let their biases favor one spouse over the other, and they must be able to take a step back and look at the bigger picture.
Who Can Help Me with Mediation in Georgia?
 Reach out to Kaye, Lembeck, Hitt & French to get started with your mediation plan right away. We are a fully-qualified law firm in Georgia, and we know the value of effective mediation. Whether you're approaching an amicable divorce or you're gearing up for a major legal battle, we're here to support you every step of the way. During your first consultation with us, you can learn more about mediation and plenty of other legal options. Reach out to our Atlanta family lawyers now to get started.
 Sources: 
godr.org/become-a-neutral/complete-training-requirements/
fanning.uga.edu/programs/mediation-training/#:~:text=The%20Georgia%20Office%20of%20Dispute,in%20the%20state%20of%20Georgia