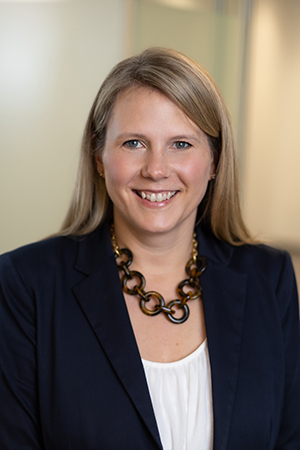 Brooke M. French
No one chooses to go through a family law matter. They typically cause some sort of disruption and create problems for those involved. Atlanta family law attorney Brooke M. French understands the disruption, difficulty and stress and strives to guide her clients through their legal matters as efficiently and compassionately as possible.
Brooke represents clients in all aspects of domestic relations litigation in Atlanta-area courts, including divorce, separate maintenance, child custody and support modifications, contempt, post-divorce modification and enforcement, family violence, paternity, legitimation, and prenuptial agreements. She takes a special interest in protecting children and maintaining stability in their lives as the family structure changes.
Knowing that children's needs are sometimes inadvertently overshadowed when parents are struggling, Brooke makes a special effort to educate her clients about the impact their decisions will have on children. The mother of two young children herself, she has focused on the needs of children in divorce and custody cases throughout her career. She is trained as a Guardian ad Litem and is on the list of preferred attorneys for these matters in Fulton and Cobb counties. She writes frequently about custody issues and other family law developments.
Brooke believes in solution-focused advocacy and employees it in all of her cases. She works closely with her clients to reach a resolution as Brooke strongly believes mediation results in the best outcome in the majority of family law cases – particularly those in which children of any age are involved. She is a civil mediator, a domestic relations mediator, a domestic violence mediator and an arbitrator. She is a registered neutral with the Georgia Office of Dispute Resolution. Brooke understands that not all cases can resolve in that manner and she is a fierce advocate for her clients when necessary.

Brooke has been selected for a number of professional honors, including Top 50 Women by Georgia Super Lawyers, Georgia Super Lawyer, Georgia Trend Legal Elite, and Georgia Top 40 Family Lawyer Under 40. She is the author of numerous articles and is a frequent presenter on family law matters to legal organizations and local news media.
Brooke is originally from Massachusetts, but she has called Georgia home for 20 years. She is an avid Patriots and Red Sox fan who enjoys spending time with her husband, two daughters and their rescued pup.
Education:
J.D., Emory University School of Law (2003)
B.A., Union College, Schenectady, NY, magna cum laude (2000)
Admissions:
Georgia State Courts
Georgia Court of Appeals
Supreme Court of Georgia
U.S. District Court for the Northern District of Georgia
U.S. Circuit Court of Appeals for the Eleventh Circuit
Associations and Memberships:
State Bar of Georgia
Charles Longstreet Weltner Family Law Inn of Court
Atlanta Bar Association
Selected Honors
Georgia Super Lawyers Top 50 Women Attorneys: 2019, 2020, 2021, 2022 and 2023
Georgia Super Lawyer: 2016 – 2023
President, Charles Longstreet Weltner Family Law Inn of Court (2022 – present)
Master, Charles Longstreet Weltner Family Law Inn of Court (2022 – present)
Judicial Selection Committee, Atlanta Bar Association (2022 – present)
Member at Large, Atlanta Bar Foundation (2023 – present)
Member at Large, Atlanta Bar Association Board of Directors (2020 – 2022; 2022 – present)
Member, The Atlanta Lawyer Magazine Editorial Board (2018-present)
Member, Atlanta Bar Association, Law Student Outreach Committee (2017 – present)
Georgia Trend Legal Elite: 2017 and 2021
Vice Chair, Charles Longstreet Weltner Family law Inn of Court (2020 – 2022)
Chair, Atlanta Bar Association, Membership Action Committee (2019 – 2023)
Immediate Past Chair, Atlanta Bar Association, CLE Board of Trustees (2019-2020)
Atlanta Bar Association's Distinguished Service Award, 2019
Treasurer, Charles Longstreet Weltner Family Law Inn of Court (2018 – 2020)
Chair, Atlanta Bar Association, CLE Board of Trustees (2018-2019)
Top 40 Family Lawyer Under 40 in Georgia for 2017
Vice Chair, Atlanta Bar Association, CLE Board of Trustees (2017-2018)
Member, Atlanta Bar Association, CLE Board of Trustees (2016 – 2020)
Barrister, Charles Longstreet Weltner Family Law Inn of Court (2014 – 2022)
Order of the Barristers, Emory University School of Law, 2003
Selected Articles and Presentations
Access Atlanta Bar: Judges Panel Series Supreme Court of Georgia, April 2022 – Moderator
Access Atlanta Bar: Judges Panel Series Gwinnett County, March 2022 – Moderator
Access Atlanta Bar: Judges Panel Series Cobb County, February 2022 – Moderator
Access Atlanta Bar: Judges Panel Series – Georgia Court of Appeals, January 2022 – Moderator
Access Atlanta Bar: Judges Panel Series – DeKalb County, December 2021 – Moderator
Access Atlanta Bar: Judges Panel Series – Fulton County, November 2021 – Moderator
Wealth Matters: (It's Complicated: Estate Planning for Blended Families | Wealth Matters – YouTube) – March 2021
The Atlanta Lawyer Magazine – Domestic Law During the Pandemic The Atlanta Lawyer April 2020 (joomag.com)
Access Atlanta Bar: Summer Series All About Atlanta Panel – Moderator – July 2020 The Atlanta Lawyer August/September 2020 Vol. 19, No. 2 (joomag.com)
The Atlanta Lawyer Magazine – Meet the Leadership The Atlanta Lawyer June/July 2020 Vol. 19, No. 1 (joomag.com)
Access Atlanta Bar: Summer Series Judges Panel – Moderator – June 2020
Alcohol and Drug Abuse Certification Board of Georgia (ADACBGA) 7th Annual Conference – Presenter, 2019
Georgia Family Law Practice for Paralegals – Speaker, February 2019
The Atlanta Bar Magazine – CLE by the Hour The Atlanta Lawyer December 2018 / January 2019 (joomag.com)
Atlanta Bar Association CLE by the Hour – Moderator, December 2018
Georgia Association for Marriage and Family Therapy, 39th Annual Spring Conference – Speaker, May 2018
Atlanta Bar Association CLE "Developing Lawyers Series, Part II" – Moderator, April 2018
Charles Longstreet Weltner Inn of Court "Ask the Judges – Attorney's Fees" Co-Presenter, 2018
Atlanta Bar Association CLE "Developing Lawyers Series, Part I" – Presenter on Clearing the Clutter, February 2018
Atlanta Bar Association CLE "But You Said You're a Lawyer?" – Presenter on Family Law Panel 2017
WSB TV, Legal Analyst, March 13, 2017
WSB TV, Legal Analyst, March 9, 2017
Atlanta Bar Association, CLE by the Hour, Speaker on Social Media Revolution: Ethical Implications for the Use of Social Media Platforms (February 2017)
Lets Talk Sex Podcast EPISODE 15 – Your Relationship and the Law: What You Need to Know
"Family Law for the Family Therapist" – Speaker, Georgia Association for Marriage and Family Therapy, November 2016
Atlanta Bar Association CLE "But You Said You're a Lawyer?" – Presenter on Family Law Panel 2016
Atlanta Bar Association, Young(er) Lawyers Law Practice Management Series – Speaker on Getting and Staying Organized, October 2016
Atlanta Bar Association, Young(er) Lawyers Law Practice Management Series – Moderator, September 2016
"Preserving a Business When the Owners Divorce," Family Lawyer Magazine, August 4, 2016
Atlanta Paralegal Association, Inc., Presenter on Family Law, 2016
"Managing Your Finances When You're Separated," U.S. News and World Report, May 27, 2016
Visions Anew – Divorce Survival Weekend, Presenter on Mediation, 2016
"When a Partner Divorces," Accounting and Financial Planning in Law Firms (LJN), February 2016
Georgia Family Law Practice Guide, Third Edition, 2016
"Interview of Judge C. LaTain Kell," The Cobb Family Law Quarterly, January 2016
Charles Longstreet Weltner Inn of Court "Ask the Judges – Alimony and Equitable Division" Co-Moderator, 2015
2015 Statewide Child Support Conference, Presenter on Social Media, 2015
"Your Kids Deserve the Best Custody Schedule," Solo Parent Magazine, July 2015
"Helping Kids Cope with a Post-Divorce Move," Atlanta Journal-Constitution, The Charlotte Observer, The Detroit Free-Press, The (South Florida) Sun Sentinel, 2015
"The Role of Grandparents During Divorce," The Family Lawyer, 2014
"The Dangers of Social Media and Divorce," The Cobb Family Law Quarterly, 2014
"Common Issues Franchisors Face When Franchisees Divorce," Franchising, Business & Law Alert (LJN), 2014
"The Dangers of Social Media in a Divorce Battle," Hope After Divorce, 2014
Georgia Family Law Practice Guide, Second Edition, 2014
Georgia Family Law Practice Guide, 2013
Visions Anew – Divorce Survival Weekend, Presenter on Mediation, 2013