How To Seek Child Custody As A Grandparent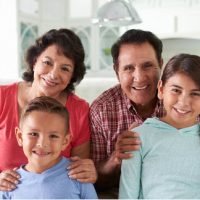 Divorces and separations can be challenging in Georgia and elsewhere in the country, especially when there are minor children from the relationship. While parents ultimately may be able to reach an agreement about child custody and co-parenting, or might be able to find ways to engage with one another for the sake of their children, this is not always the case. In particularly contentious cases, family members other than the parents might be angry about custody considerations and may want to spend more time with the child or children. Grandparents, in particular, often want to know how they can seek child custody, or how they can contest one of the parent's decisions to stop letting the child or children see their grandparents.
Grandparent custody is a complicated issue in Georgia. Generally speaking, there are two ways that a grandparent might be able to seek child custody under Georgia law, and our Atlanta child custody attorneys can help if you are involved in a situation like this.
Grandparents Can File a Petition for Child Custody 
Grandparents do not have an automatic or presumed right to spend time with a grandchild. It is within a parent's discretion to deny visitation to a grandparent unless the grandparent has a court order in place. The most obvious way for a grandparent to seek child custody is to file a petition for custody under Georgia law. Yet it is important to know that the process for a grandparent filing a petition for child custody is not the same as a parent filing a petition for child custody.
To obtain child custody by filing a petition, the grandparent must overcome the presumption that the child's parent or parents will have custody.  To do so, the grandparent who has filed the petition must be able to prove by clear and convincing evidence that the parent having custody of the child would result in harm to the child, which can be physical or emotional harm. Then, if the grandparent is able to prove that parental custody would result in harm to the child, the grandparent must prove that custody with the grandparent is in the child's best interest.
Grandparents May Be Able to File for Temporary Custody in Juvenile Court as a Dependency Case 
Sometimes a grandparent has concerns about a parent's immediate ability to care for the child and wants to seek temporary custody. In such circumstances, a grandparent may be able to file a petition for temporary custody with the Juvenile Court as a dependency case. To obtain temporary child custody, a grandparent must be able to show that the parent neglected or abused the child.
Contact Our Atlanta Child Custody Lawyers for More Information 
Do you have questions about how to seek grandparent custody? An experienced Atlanta child custody attorney at Kaye, Lembeck, Hitt & French can provide you with more information about Georgia child custody law and how it applies to grandparents in the Atlanta area.