How To Live In The Same House As Your Spouse During The Divorce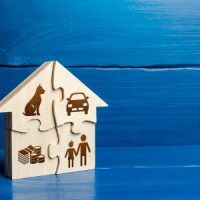 For most married people in the Atlanta area who are considering divorce, it is important to live apart from one another during and after the divorce process. A separation may mean that one party moves out of the shared marital home while the other party remains.  Alternatively, both spouses may move out of the shared marital home and into their own separate residence.  However, there are some scenarios in which spouses may decide to remain in the same home during the divorce process.  For example, there may be financial reasons to remain living in the same household or there may be concerns about stability for the children.  Georgia law does not require spouses to physically separate for a specific period of time in order to be eligible for a divorce. Accordingly, spouses may continue living in the same residence during (and even after) a divorce.
If you have made the decision to remain in the same household as your spouse during your divorce case, how can you make the decision work? Consider the following tips from our Atlanta divorce attorneys.
Establish Separate Spaces in the Home
 It will be essential to establish separate spaces in the home if you are going to live with your ex during or after a divorce case in Atlanta. Not only should you each have a separate bedroom, but it is important to ensure that you will each also have your own space to spend time and to relax. If you both regularly watch television or read, make certain that you have a space to do this without interruption from the other party.  While you both may need access to shared spaces, like the kitchen or living room, you can also set up a schedule or rules for how those spaces will be shared.
Make Rules
 If you are going to live with your ex for any amount of time, it can be helpful to establish rules about how you will continue to live together after the relationship is over. As we noted above, your rules may include who can use shared spaces at various times. You might agree that each spouse will have access to the kitchen or other shared living spaces on a set schedule. If there is not enough space in your home that you can each have your own living space, scheduling time that you can occupy a shared space without the interruption of the other may be important to maintain peace in the home.
Agree to Financial Arrangements 
Married people going through a divorce should also consider how they will handle their personal finances during and after the divorce. It is important to have a clear understanding of the financial arrangement while the divorce is pending.  As such, it may be necessary to treat your ex like a business partner until you're able to fully financially separate.
Contact a Divorce Lawyer in Atlanta 
Divorces can be extremely complicated, and they can become more complex when the spouses decide to remain in the same household during or after the divorce. If you need assistance with your divorce case or you have questions, you should get in touch with one of the experienced Atlanta divorce lawyers at Kaye, Lembeck, Hitt & French who can assist you.
Source:
law.justia.com/codes/georgia/2010/title-19/chapter-5