How To Know If You Should File For Divorce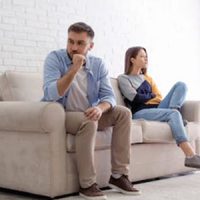 If you are experiencing problems in your marriage, you might be wondering if you should be considering the possibility of divorce. While many people may contemplate divorce, not everyone who thinks about filing actually does so in the end. The decision to file for divorce is not one that should ever be taken lightly, and you should always discuss your circumstances with an experienced Atlanta divorce lawyer who can assist you throughout the process. Yet in the meantime, how can you know whether it is time to file for divorce? Our firm has some questions you can ask yourself as you consider whether now (or ever) is the right time to end your marriage.
Am I Eligible for Divorce Under Georgia Law?
Before you consider the financial and emotional aspects of divorce and whether you are ready to file, you should determine first whether you are actually eligible to file for divorce under Georgia law. In order to be eligible to file for divorce in Georgia, the person filing the divorce must have lived in Georgia for at least six months prior to the date of filing, have moved away from Georgia within the past six months, or be currently located in another state, but plan to return to Georgia.  You should also determine with help from an attorney whether you have grounds for your divorce, which includes a "no fault" option in Georgia.
Are You Considering Divorce Based on Your Immediate Emotions? 
Are you making the decision to file for divorce, or considering divorce, based on your immediate emotions? While it is important to trust your emotions in general, it is typically not wise to make a life-changing decision based on an immediate emotional state, such as anger or resentment, especially if you just found out that your spouse cheated. While you ultimately may want to move forward with a divorce, you will want to give yourself the time you need to plan ahead and to ensure that you have a plan in place.
Have You Prepared for the Emotional Consequences of Divorce? 
Getting divorced can be difficult emotionally once the divorce is officially finalized, even if both spouses wanted to end the marriage and made sufficient plans so that they would be prepared for life apart. Accordingly, before you file, you should make sure that you have taken care of your emotional needs and have prepared for the emotional consequences of going through with a divorce, from the anxiety that may come with a potentially contentious case to thinking through life as a single person.
Have You Prepared for the Financial Consequences of Divorce? 
Have you planned ahead financially for living separate and apart from your spouse? Divorce can be the best thing for many couples, but in most cases, it is essential to plan ahead financially. You should make a budget and stick to it, and you should make sure that you are ready to handle all of the finances for your household without a spouse's income or support. Of course, it is possible to seek spousal support or alimony in Georgia, but you should still be thinking ahead about finances before you file.
Contact an Atlanta Divorce Lawyer 
Do you have questions about getting prepared for divorce? Our Atlanta divorce attorneys can help you. Contact Kaye, Lembeck, Hitt & French for more information.