How To Know If Mediation Is Right For You And Your Family Law Case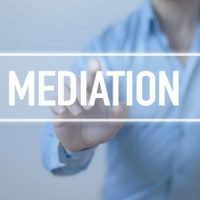 When you are having difficulty reaching an agreement with your spouse about any aspects of your divorce or concerning child custody, family law mediation could be able to help you. While mediation is not right for everybody, and in some cases may be unlikely to improve circumstances, for many couples or individuals involved in a family law dispute, family law mediation can allow the parties to resolve an existing dispute without going to court and in a more time-effective and cost-effective manner. How can you know if mediation is right for you? Consider the following questions from our Atlanta family law mediation lawyers.
Are You Willing to Compromise?
As a form of alternative dispute resolution in which the parties engage in negotiation  about the family law matter in dispute, some form of compromise is necessary. While you should not be willing to necessarily give up your position entirely, are you open to the possibility of compromise? Family law mediation could be beneficial to you.
Are You Interested in Playing a Key Role in Decision Making?
One of the reasons that so many people benefit from family law mediation is that it allows them to play a key role in the decision-making process. Are you interested in being central to the decision-making process in your family law case, as opposed to having a judge hear from both parties and rule on the issue? Family law mediation could be a helpful choice for you.
Are there Concerns About Domestic Violence or Abuse? 
If there has been domestic violence or abuse between you and the other party, you must consider the effect this may have on mediation. The idea of involving the alleged abuser and the abused in negotiations about a disputed family law matter can exacerbate trauma and may be more problematic than helpful in the long run. Although you and the other party will most likely not engage in direct dialogue, and will be located in  separate rooms both in person or on Zoom, you must consider whether or not you feel safe negotiating with or disagreeing with the other party.  If you are concerned about the other party's actions before, during or after mediation, mediation may not be the best and safest choice for you.
Contact Our Atlanta Family Lawyers Today for Assistance 
Are you considering family law mediation, and do you want to learn more about the ways to determine whether family mediation is right for you? Our firm can provide you with more information about family mediation in Georgia and its benefits in divorce, child custody, and other family law matters. Do not hesitate to get in touch with one of our Atlanta family law attorneys to speak with you today. Contact Kaye, Lembeck, Hitt & French for more information.