Family Lawyers Open New Firm Amid Pandemic Fueled 'Uptick' in Divorce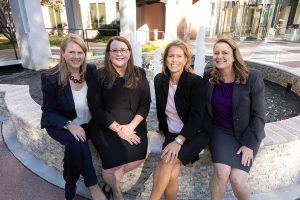 September 29, 2021 | Katheryn Hayes Tucker 

"In general, I feel we've seen an uptick in clients since the pandemic," said Amy Kaye of Kaye, Lembeck, Hitt & French Family Law.
It was years of personal and professional friendship, not a boost in business during the coronavirus pandemic, that led four Atlanta area divorce lawyers to launch their own new firm, starting Friday.
But their timing worked out.
Amy Kaye, Alyson Lembeck, Elinor Hitt and Brooke French are now the name partners in Kaye, Lembeck, Hitt & French Family Law. They talked about their new venture during an interview together with the Daily Report this week.
"In general, I feel we've seen an uptick in clients since the pandemic," Kaye said.
"We're definitely seeing an increase in our business," Lembeck said. "We're seeing the level of stress with our clients increase due to the various mental health challenges that come along with the pandemic."
Kaye and Lembeck left Ellis Funk to start the firm—and brought their clients with them, as did their new partners.
Hitt moved from WarnerBates, where she had happily practiced family law but was tempted when Kaye and Lembeck asked her to consider starting a new firm with them. Hitt graduated from Georgia State University School of Law in 2007. Before that, she was a social worker, with a master's degree in the field from the University of Georgia.
Her social work background has given her "a very high tolerance for messy emotions," Hitt said. Even so, she has noticed the pandemic lockdown, COVID-19 precautions and vaccine tensions creating "an extra level of stress." Also, sadly, she said, "I've seen an uptick of domestic violence cases."
The pandemic is presenting complications even for those who thought they had their divorce and custody arrangements worked out, they said.
"I think there's a challenge, particularly with families with children with how the parenting plan is going to be established," French said. Schedules were once simpler with children in school, but the pandemic raises new questions. "Who's going to take care of the kids when school is remote? When quarantining at home? Who gets to see them when they're in quarantine? These are additional layers we didn't have to deal with before."
Already, divorcing parents are having difficulties when one is vaccinated and one is not, and when they disagree over safety precautions and risky social gatherings. New tensions loom ahead with the coming vaccine for children under age 12, presenting questions lawyers, courts and parents haven't had to answer before. "Do the kids get vaccinated or not?" asked French.
French left the high-profile divorce law firm Kessler & Solomiany to join her new partners. Randy Kessler said in a separate interview with the Daily Report that he has witnessed a boom in the divorce business since the pandemic. First, clients were driven over the edge in the initial lockdown, then later by a change in thinking about what's really important in life. He said he's hearing, "I deserve to be happy" a lot lately.
"By far, we are busier than we've ever been," Kessler said. The firm has just hired a new lawyer, Kate Farmer, in an effort to expand. Then French left, creating an opening. It was a friendly departure, both said. And he certainly understood her desire to go out and start her own firm, since he had done that himself long ago, French said. But his initial answer was, "I hope you're kidding."
Kaye, Lembeck, Hitt and French said they share a like-minded approach, starting with the fact that they all do more than divorce—including mediation and guardian ad litem service when appointed by courts to speak for the best interests of minor children. They've come to know each other over years of practice in all those capacities.
"We're very much into solutions. We're not litigating just to litigate. For all of us, that's important. That's how we practice law," French said. "When we do go to court, we have a strong litigation background, and we're trusted by judges." Often that trust connects to their mediation or guardian ad litem roles.
"A lot of what we do is listening," Hitt said. "We're called attorneys and counselors for a reason."
Kaye, Lembeck, Hitt & French Family Law is located at Glenridge Highlands on the Northside near Ga. 400 and Interstate 285. In addition to the four partners, the firm will start with three associates and a receptionist. The office is set to open Friday 10/1/ 2021. 
Copyright 2021. ALM Media Properties, LLC. All rights reserved.