Child Support in Georgia: What if Spouses Have Equal Incomes?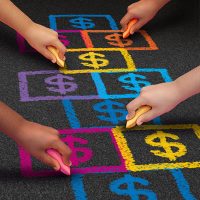 In the modern era, it is more common than ever before for both parents to work full-time jobs. According to the Bureau of Labor Statistics, both spouses are employed in about 50% of all families across the nation. This trend seems to be increasing with each passing year. The PEW Research Center states that of these parents, only about 25% earn approximately equal incomes. This means that a relatively low number of families in Georgia have parents who earn the same amount. But what if you find yourself in this rare situation? How does this affect child custody? Let's find out:
Shared Custody and Equal Incomes 
First of all, you should know that the most common outcome in Georgia divorces is some form of shared custody. In this custody arrangement, children may spend roughly equal amounts of time with each parent. But what happens if both parents earn the same amount of money and if they have equal amounts of time with the children? In this case, Things can get a little complicated.
Child support is calculated based on income, with the parent who earns less typically receiving a certain amount of money from the parent who earns more. The exact amount is based on several calculations, but it is generally a reflection of the disparity or difference in incomes. If both parents earn  the same amount of money and have the children the same amount of time, , child support may be extremely minimal or even non-existent.
Keep in mind that this only applies to situations in which parents have shared custody. If one parent has substantially more  custodial time, they may  receive child support even if the incomes are substantially equal. This is because they are shouldering a greater burden by taking care of the children – paying for their food, their clothing and so on. Even if the custody arrangement is shared but not equal, child support will likely  be awarded. It is important to consider the amount of custodial time each parent has as well as the income of each parent.
Where Can I Find a Qualified, Experienced Child Support Attorney in Georgia?
 If you've been searching for a qualified, experienced Atlanta child support attorney, look no further than Kaye, Lembeck, Hitt & French. Over the years, we have assisted numerous parents with matters related to child custody – including income-based calculations. It's easier to determine how child custody works when you sit down and discuss your unique situation alongside a divorce attorney. Book your consultation today to get started with an effective action plan.
Sources: 
bls.gov/news.release/pdf/famee.pdf
pewresearch.org/social-trends/2015/11/04/raising-kids-and-running-a-household-how-working-parents-share-the-load/