Steps For A Premarital Agreement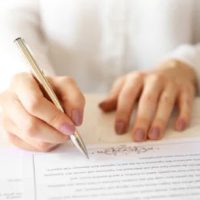 Premarital agreements in the Atlanta area can allow couples who are planning to get married to reach an agreement about many different issues, including how assets and debts will be divided if they ultimately get divorced, as well as how certain financial matters will be handled during the marriage. Premarital agreements are more commonly known as prenuptial agreements or prenups, and under Georgia law, they are also known as antenuptial agreements. Although there are many misconceptions about who needs or does not need a premarital agreement, it is important to know that nearly any couple can benefit from a prenup. Are you considering entering into a prenuptial agreement with your fiancé or fiancée prior to your marriage? The following are some factors to consider and the steps you should take.
1.Discuss a Prenuptial Agreement with Your Partner 
Given that there are so many misconceptions about prenuptial agreements, many people are concerned about bringing up the issue of an prenuptial agreement. You should not be worried about discussing the possibility of a prenup with your partner, especially since entering into this agreement can provide  an opportunity to clarify certain rights and responsibilities during the marriage and in the event of a divorce.
Hire a Premarital Agreement Lawyer in Atlanta to Advise You During this Process 
First, it is essential to have an experienced Atlanta family lawyer on your side when you are considering the terms of a prenuptial agreement with your partner. While you and your partner are negotiating the terms of the agreement, and before you consider signing the prenuptial agreement, it is critical to have an attorney evaluate the terms to ensure that the terms are fair to you and that the terms are likely to be enforceable in the event of a dispute or a divorce.
It is extremely important for each party to have his or her own lawyer review the agreement prior to execution to ensure that the agreement represents both parties' interests, and to avoid a later claim that either party did not understand what they were signing.
Know the Terms that Are Important to You 
While many people often assume that premarital agreements are relatively one-sided, prenups can benefit both parties. Whether you are entering into your marriage and already have significant net worth that you want to protect, or you have relatively few assets and limited income, an prenuptial agreement can benefit you. Not only can these types of agreements determine how issues like property will be divided in the event of a divorce, but they can also require one of the parties to handle significant financial issues during the marriage, or they can allow a party to identify spousal support or maintenance that will be paid in the event of a divorce.
Learn About the Requirements of an Prenuptial Agreement 
Make sure you know what a prenuptial agreement must have to be valid under Georgia law:
Must be in writing;
Signed by both parties; and
Attested to by two witnesses.
It should also be reviewed by independent counsel for both parties, contain a full disclosure of each party's assets and liabilities, and not be obtained by fraud or duress.
Draft and Sign the Agreement 
With assistance from your attorney and your partner's attorney, the prenuptial agreement can be drafted, reviewed, and signed by all required parties.
Contact Our Postnuptial Agreement Lawyers in Atlanta 
Do you have questions about entering into a prenuptial agreement in Georgia? One of our Atlanta prenuptial & postnuptial agreement lawyers can assist you. Contact Kaye, Lembeck, Hitt & French today.