How To Relocate After Your Divorce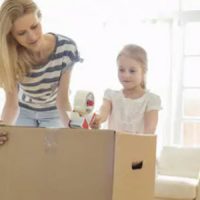 After a divorce case, there are many different reasons that you might want to move and get a fresh start. Whether you are planning to move to a new residence in the Atlanta area, to move elsewhere in Georgia, or to leave the state altogether, you may need to get the court's permission if you have minor children from your marriage. Indeed, whether you are the primary custodian of the child and the other parent has parenting time or visitation, or you share child custody equally with the other parent, you cannot simply relocate to a new city or state without notifying the other parent.
If you are planning to move and you have joint or primary custody of your child, you should consider the following steps from our Atlanta child custody lawyers to understand the steps you will need to take in order to determine how to make your relocation plans possible.
 Give Notice to the Other Parent 
At least 30 days before your planned move, you must provide the child's other parent with a notification of your plans to change your residence, and you must provide your new address to the other parent.  There may also be other requirements agreed upon in your Parenting Plan. The other parent now has the opportunity to object to your relocation.
Before you begin taking steps to petition the Court for a relocation, you should determine whether or not the other parent is going to object to your relocation and if your move will require changes to your current Parenting Plan. If you currently live in a particular part of the Atlanta area where your child attends school and you are simply planning a move to a new residence within that area and school district, you may not need to make any formal changes to your Parenting Plan. To be certain, you should discuss your circumstances with an Atlanta child custody lawyer as soon as possible.
Petition the Court for a Modification of Your Child Custody Order 
In circumstances where the other parent has objected to your move, you will need to petition the Court for a modification. In petitioning the court for a modification, a parent may have to show that there has been a "material change of condition or circumstance" that is necessitating the relocation. When a parent has gotten a new job offer in another place that can allow that parent to better support the child, or has planned a relocation in order to be closer to family members who can help to provide the child with a sense of community, that type of relocation may be more feasible than a planned relocation simply because the parent wants to move away from the child's other parent after a contentious divorce.
In the event that the other parent consents to the move, it is still in your best interest to come up with a new Parenting Plan that will best accommodate any necessary changes to your current Plan, and to submit a modified Plan to the Court for approval.
Plan to Show that the Relocation is in the Child's Best Interests 
Under Georgia child custody law, the court will only grant a request to modify child custody for a relocation if the court determines that the relocation is in the child's best interests. The court considers a variety of factors to make that determination.
Seek Advice from Our Atlanta Child Custody Attorneys 
If you have questions about child custody and relocation, an experienced child custody attorney in Atlanta at our firm can assist you. Contact Kaye, Lembeck, Hitt & French for more information.