How To Make A Divorce Document Checklist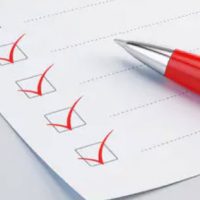 Anyone who is planning to file for divorce  or is in the early stages of a divorce case should have a divorce document checklist that allows them to keep track of all the documents that will be necessary for the divorce case. In particular, if you are planning to file for divorce first and have  concerns that your spouse may try to limit your access to certain financial documents, it is important to know precisely what you need and to have copies of everything.  Many of the relevant documents can be found online.
While your divorce document checklist should be tailored to your particular circumstance, the following can help you to make a general document checklist that you will need to be prepared for a divorce under Georgia law.
Documents Related to Employment and Income 
You should be sure to have documents related to your employment and income, as well as your spouse's employment and income. For both of you, your checklist should include:
Federal tax returns from the last three years at least;
State tax returns from the last three years at least;
Employment contracts;
W-2s, pay stubs, and 1099s;
Statements of benefits; and
Direct deposit information from bank account statements.
Details About Assets and Debts 
It is critical to have copies of all documents pertaining to assets and debts so that the court can properly classify the property as marital or separate property, and so that marital property can be divided equitably. Be sure to obtain copies of:
List of all property owned, including personal property, real property, and debts, including the date of acquisition;
Mortgage documents;
Property taxes;
Retirement account statements, including pensions and both 401(k) and 403(b) statements;
Investment, brokerage or stock account statements;
Trust documents;
Car loans;
Vehicle registrations and titles;
Appraisals of any personal or real property;
Property deeds;
Banking statements (both checking and savings);
Credit card statements;
Student loan statements; and
Personal loan documents.
Personal Information 
Your divorce document checklist should also include personal information for you, your spouse, and your children (if you have children from your marriage), which should include:
Birth certificates;
Driver's licenses; and
Social Security numbers.
Estate Planning Materials 
Finally, many estate planning documents may be relevant to your divorce, and you should have copies of the following for you and your spouse:
Life insurance documents;
Health insurance documents;
Wills;
Advance directives; and
Existing powers of attorney.
Contact Our Atlanta Divorce Attorneys for More Information 
If you are considering the possibility of divorce and you want to be prepared, an experienced Atlanta divorce lawyer at our firm can help you to craft a detailed divorce document checklist that is tailored to your needs and to the facts of your case. We can also assist you with all other planning aspects for your divorce and can represent you throughout the divorce process. Contact Kaye, Lembeck, Hitt & French to learn more about the services we provide in Georgia divorces.